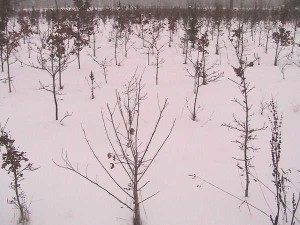 The oil worker population is largely made up of displaced men, averaging 30-years in age, who have often separated from their support systems in order to be there. The work sites and camps are full of testosterone, energy, angst and boredom. When these things are fueled by large paychecks, addictions and substance abuse run rampant.
Particularly in winter when conditions are harsh and frigid, there is simply nothing for the oil workers to do for recreation and the lack of recreational activities in Fort McMurray and in the surrounding oil camps is in part responsible for the area's extreme addiction and substance abuse problems. The reasons for this are numerous. Only ten years ago, Fort McMurray had a population of 50,000 people; a number that has more than doubled in the present day. This kind of growth is almost unprecedented for a city, though it is common for a boom town. Predictably, the city and municipality have been unable to keep the city's infrastructure relative to the size and the needs of the population, so recreational amenities are lacking.
However, there have been some efforts to provide entertainment for the oil workers. Oil giant Syncrude recently built a huge recreation center near the downtown area to give oil workers access to gym and game amenities – an effort to give employees much needed physical activity while they are not working. The trouble is, the draw to Fort McMurray is so massive and the wages are so lucrative that the city should look vastly different in order to support the needs of its population. The residents of Fort McMurray are able to afford a lifestyle full of entertainment, but the area they live in is cramped, unequipped and overwhelmed with people.
Currently, Alberta's addiction treatment services are overextended, and many people have expressed the need for more recreational facilities and addiction service centers. Whether or not this goal will come to fruition remains to be seen, and people in need of treatment are venturing out to other provinces for help.